I almost forgot that this is a thing.
Yeah, I've lost interest in madness months ago thats why I haven't been working on my Sheet for months now leaving it with not as many new stuffs as like before.
---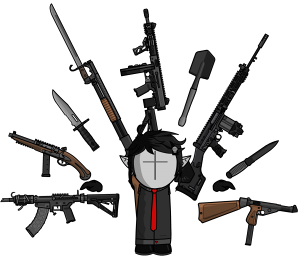 The additions are so few that I can list them right here:
3 new pistols, 2 new SMGs, 4 new assault rifles, No new shotguns, 2 new Sniper rifles, No new machineguns, No new launchers, 9 new accessories, 5 new antique weapons, 14 new melee weapons (melee weapons are more fun to draw honestly), and 5-6 old weapons updated in design.
If the file size is too big in that it lags, just delete the background layer.
---
This will prolly be my last Weapon sprite update, but don't take my word for it since if for some reason I got into madness again, I will make an update next year, if not then this will be my last.
---
Anyways, We got some pretty cool entries this year which are hella fun to watch, hope ya'll having a great madness day.