---
well, you're wrong.
---
Im alive and still pretty active on my own (only not active in the community),
I've been drawing more sprites to add to my weapon spritesheet ever since madness day: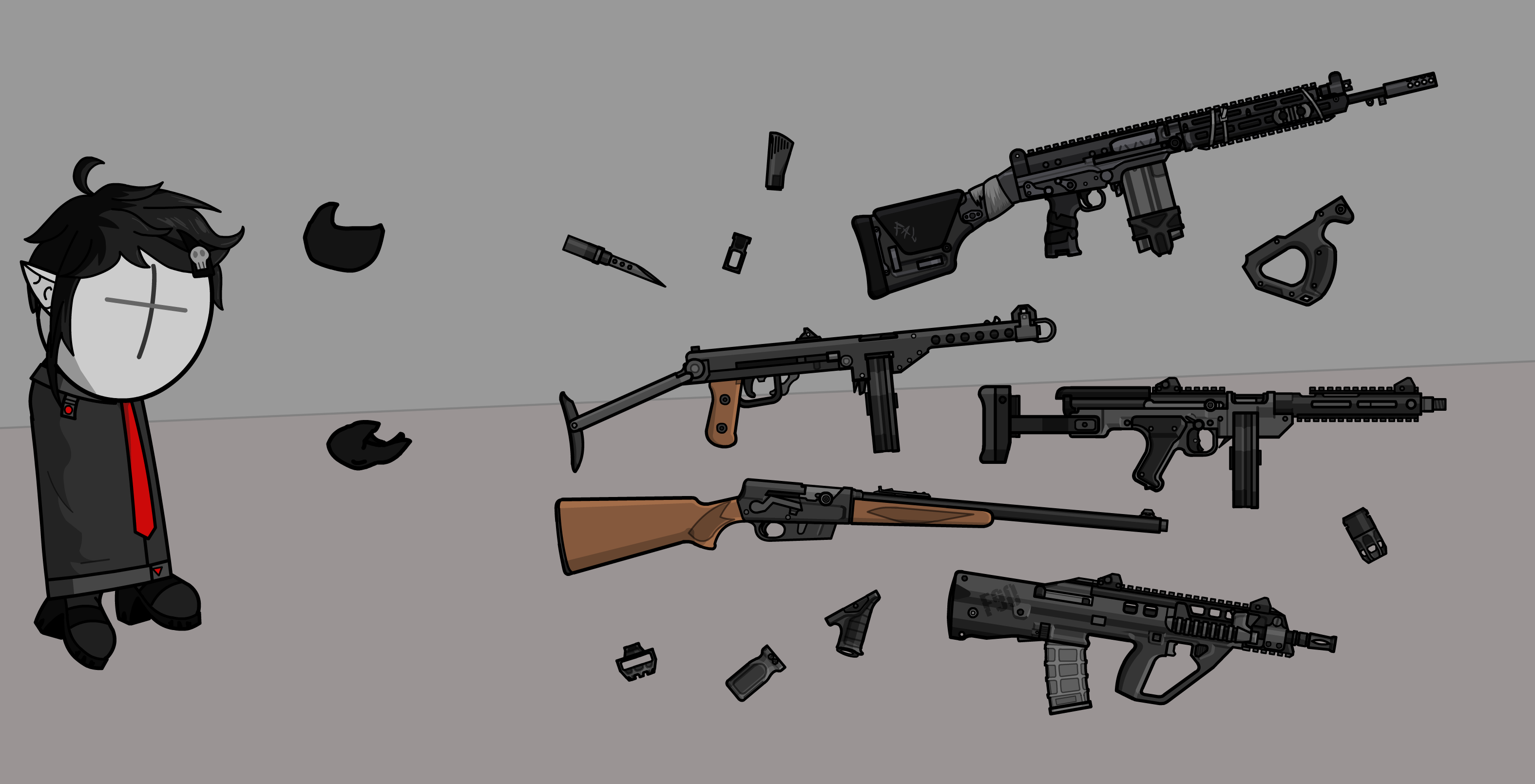 not just weapons, but weapon accessories like muzzle attachments and grips as well,

im not gonna release them this holiday seasons, since Im not done updating them yet, expect me to upload and share a finished an updated weapon spritesheet (which will probably be twice as big) on next year's madness day.
 
---
If you missed out The Weapon spritesheet I shared for free back in madness day, 
Click here to download and use it for yourself
ʲᵘˢᵗ ʳᵉᵐᵉᵐᵇᵉʳ ᵗᵒ ᶜʳᵉᵈᶦᵗ ᵐᵉ ʷʰᵉⁿᵉᵛᵉʳ ʸᵒᵘ ʷᵃⁿⁿᵃ ᵘˢᵉ ᵗʰᵉᵐ ⁽ⁿᵒ ⁿᵉᵉᵈ ᵗᵒ ᵃˢᵏ ᶠᵒʳ ᵖᵉʳᵐᶦˢˢᶦᵒⁿˢ⁾,
ᵃⁿᵈ ᶦᶠ ʸᵒᵘ'ʳᵉ ᵗᵒᵒ ˡᵃᶻʸ, ᵒʳ ᶦᶠ ʸᵒᵘ ᶜᵒⁿˢᶦᵈᵉʳ ᵗʰᵃᵗ ᵃᵈᵈᶦⁿᵍ ᶜʳᵉᵈᶦᵗˢ ʷᵒᵘˡᵈ ʳᵘᶦⁿ ᵗʰᵉ ᶠˡᵒʷ ᵒᶠ ʸᵒᵘʳ ᵃⁿᶦᵐᵃᵗᶦᵒⁿˢ, ʸᵒᵘ ᶜᵃⁿ ʲᵘˢᵗ ᵃᵈᵈ ᵗʰᵉ ᵖᵒˢᵗᵉʳˢ ᶠʳᵒᵐ ᵗʰᵉ ˢʰᵉᵉᵗ ᵗᵒ ᵗʰᵉ ᵇᵃᶜᵏᵍʳᵒᵘⁿᵈ ᵒᶠ ʸᵒᵘʳ ᵃⁿᶦᵐᵃᵗᶦᵒⁿ, ᵗʰᵃᵗ ᶦˢ ᶜʳᵉᵈᶦᵗ ᵉⁿᵒᵘᵍʰ ᶠᵒʳ ᵐᵉ.

And No, this Wont include the new weapon sprites that I just drew (and is shown in the image above), Since those are for Next year's madness day, these are just the ones I shared last madness day and im sharing it again coz A Lot of people missed them as they got buried under other people's submissions.
 
---
Anyways, Thats all I've done since then (aside from doing non-madness related stuffs on DA), 
so to anyone reading this, Have a Happy Holidays to ya! ^^
---